Overview
Actuarial Coop Definity Financial in Toronto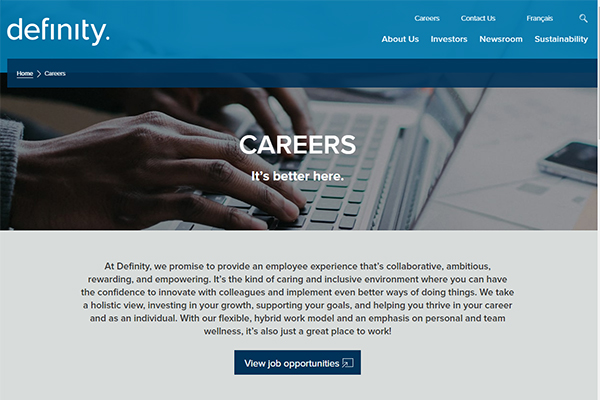 Definity includes some of Canada's most long-standing and innovative insurance brands, including Economical Insurance, Sonnet Insurance, Family Insurance Solutions, and Petline Insurance. With strong roots that date back to 1871, we've grown to become a digital leader in the insurance industry. We're proud to help our clients and communities adapt and thrive in a world of constant change.
Our promise to you: It's better here. Why? Because we CARE, and we provide an employee experience that's collaborative, ambitious, rewarding, and empowering.
Our ambition is to be one of Canada's leading and most innovative P&C insurers. Come be a part of our journey, and love what you do.
Starting in September, Definity employees move to a hybrid work model so we can collaborate, build mentoring relationships, and solve complex or cross-functional business opportunities together. Our teams work in whichever environment best supports what they're working on and who they're working with.
We're actively reinventing our offices as welcoming workspaces that optimize collaboration and empower leaders to use our space to strengthen team dynamics. Our tools and processes seamlessly connect employees from multiple locations, and our culture encourages respectful engagement and flexibility.
Leaders work with their teams to determine the right balance of on-site and remote work that best meets the needs of their team, cross-functional engagement, responsibilities and timelines, plus those of our customers, our broker partners, and the company culture.
What can you expect in this role? 
Reporting to an Actuarial Manager, you will play a key role in contributing to projects in personal or commercial pricing, reserving, financial planning and economic capital modelling using state of the art models and innovative approaches. You will develop deep knowledge of actuarial operations and the insurance business, including predictive modelling, underwriting, claims handling, product development, reserving, estimation of policy liabilities, planning and/or forecasting
About the role: 
Develop and apply your experience with spreadsheets, databases, and statistical software to prepare and analyze data for profitability analysis and other diverse applications
Learn to interpret and use results of new and innovative modelling techniques and analytics to drive business decisions
Learn to produce various data exhibits and analysis to measure, track and monitor company and industry performance
Learn to communicate actuarial concepts both verbally and in writing
Respond to requests of internal and external stakeholders with support from more senior staff
What do you bring to the role? 
Currently enrolled in a university degree program in Actuarial Sciences, Mathematics, Statistics or other relevant discipline and still actively enrolled until at least January 2023
Must have successfully completed at least 1 exam of the Casualty Actuarial Society and/or of an international actuarial organization equivalently recognized by the Casualty Actuarial Society
Must possess strong programming skills, including knowledge of SAS, R and/or SQL , and efficient use of Microsoft applications (Excel,VBA, etc.);
Knowledge of Emblem, Radar and/or ResQ is an asset
Must have excellent problem solving, communication and organization skills
Work Location: The position will either be a hybrid (1-3 days in office) or fully remote. These positions are spread across our different locations including Kitchener/Waterloo, Mississauga and Toronto
How to apply: Submit a cover letter, the most recent copy of your transcript, resume and 1 letter of reference in one document
We also take potential into consideration. If you don't have this exact experience, but you know you have what it takes, be sure to give us more insight through your application and cover letter.
Go ahead and expect a lot — you deserve it, and we've got it: 
Hybrid work schedule for most roles
Company share ownership program
Pension and savings programs, with company-matched RRSP contributions
Paid volunteer days and company matching on charitable donations
Educational resources, tuition assistance, and paid time off to study for exams
Focus on inclusion with employee groups, support for gender affirmation surgery, access to BIPOC counsellors, access to programs for working parents
Wellness and recognition programs
Discounts on products and services
Our inclusive work environment welcomes diversity and supports accessibility. If you require accommodation at any time during the recruitment process, please let us know by contacting: hrsharedservices@economical.com
Background checks
This role requires successful clearance of a background check (including criminal checks and leadership references).
About Definity Financial Corporation
Definity is a Canadian, multi-channel, property and casualty insurance company whose success is founded on our family of companies' long history of delivering a superior experience for those who count on us.