Overview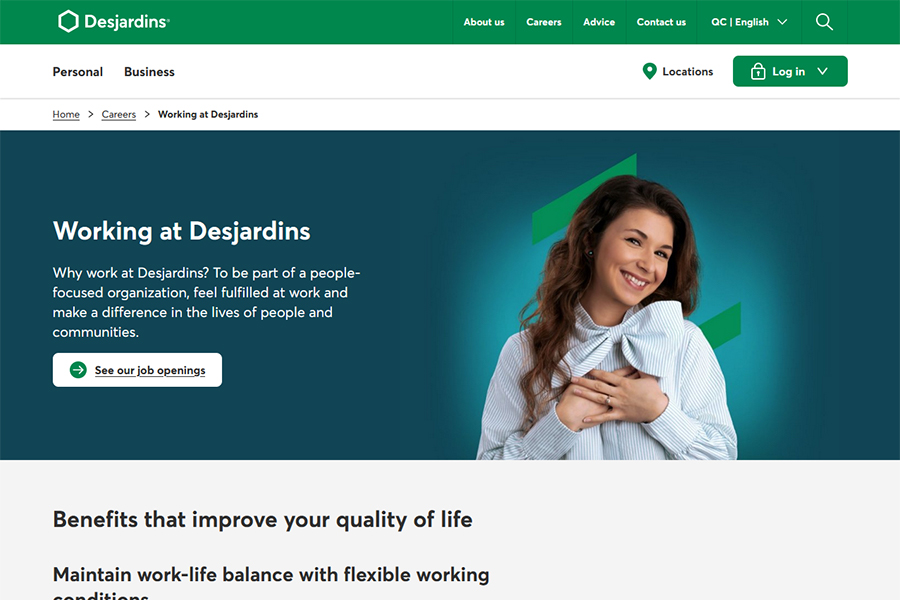 At Desjardins, we believe in equity, diversity and inclusion. We're committed to welcoming, respecting and valuing people for who they are as individuals, learning from their differences, embracing their uniqueness, and providing a positive workplace for all. At Desjardins, we have zero tolerance for discrimination of any kind. We believe our teams should reflect the diversity of the members, clients and communities we serve.
If there's something we can do to help make the recruitment process or the job you're applying for more accessible, let us know. We can provide accommodations at any stage in the recruitment process. Just ask!
Job Level
ST-99
Desjardins recognizes and draws upon the talent, work, and skills of each one of its employees. We value and respond to the many competing priorities in your lives so you can focus on what you can do best – putting clients first!Do you want to play an integral role as part of an Insurance Powerhouse?
If so, we are currently looking for:
General Information on the Position
*Actuarial Co-op/ Intern Students
We currently have 4 Actuarial Co-op/Intern opportunities available in our Mississauga, Toronto or Calgary* office for the Summer, May to August 2023 term.
(*Seats are available in all offices and we will try to accommodate preferences where possible. Please be prepared to discuss the preferred location.)
In addition to a competitive salary, Desjardins is also offering a scholarship to co-ops with exceptional performance!
Desjardins is an equal opportunity employer and values diversity in its workforce. Desjardins encourages applications from all qualified individuals and provides reasonable and appropriate accommodations during the recruitment and selection process as needed.
Main responsibilities
Provide support to the Property and Casualty Actuarial Department including assisting in rate analysis, cost benefit analysis, research and modelling, reserving, and other analysis supporting key business partners such as marketing, business development, claims, underwriting etc
Assist with the management of the actuarial databases
Assist with the regular production of internal reports on product/market results, auto and property quote success rates, market position, renewal/lapse experience, and net profit margin
Each student will be responsible for working on one or more projects independently.
Other working conditions
Workplace: Position located in Tonroto, Calgary or Mississauga, depending on the applicant selected. The work arrangement for the position is hybrid work #LI-Hybrid
Temporary work: scheduled to end on August 25, 2023
Number of jobs available : 4
Qualifications
Bachelor's Degree in either Actuarial Science, Mathematics, Statistics or Data Science
Please note that other combinations of qualifications and relevant experience may be considered
Completion of 1 or more SOA/CAS exams (an asset)
Specific knowledge
Knowledge of MS Office Software (Excel, Word, Access)
Knowledge of Property and Casualty insurance (an asset)
Knowledge of SAS (an asset)
Your talent is what moves us forward! Did you know that Desjardins is recognized as one of Canada's top 100 Employers and one of Financial Post's 10 Best Companies to work for? Desjardins General Insurance Group, a top 3 Property and Casualty Insurance Company in Canada, is where you want to gain experience!
Desjardins Cross-sector skills
Action oriented, Customer Focus, Differences, Nimble learning
Key competencies for the job
Drive results, Situational adaptability
Work Location
95 St-Clair Avenue West Toronto (MT)
Desjardins Group is the largest cooperative financial group in Canada, and one of the largest employers in the country. It offers a full range of financial products and services and is home to a wealth of expertise in property and casualty insurance, life and health insurance, wealth management, services for businesses of all sizes, securities brokerage, asset management, venture capital, and secure, leading-edge virtual access methods.
About Desjardins
Desjardins Group is not only North America's strongest financial institution, it has also been recognized as a Best Employer in Canada for several years now.
Its 47,000 employees and 5,000 officers contribute to maintaining its leading position in online and mobile banking services. Desjardins Group is a corporate citizen that puts people first!